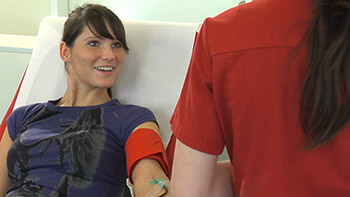 Source plasma is collected through a process called plasmapheresis. In more than 600 specialized donation centers located in the U.S. and Europe, individuals may donate plasma. Plasmapheresis is a sterile, self-contained, automated process that separates plasma from red blood cells and other cellular components which are then returned to the donor.
Source plasma collection in the U.S. is regulated by the U.S. Food and Drug Administration (FDA) and, in Europe, by the European Medicines Agency (EMA) and national regulatory authorities.
Source plasma collection centers are also certified by the International Quality Plasma Program (IQPP), a rigorous, voluntary program that goes beyond regulatory requirements to help ensure donor safety and further improve the quality of source plasma used for fractionation.